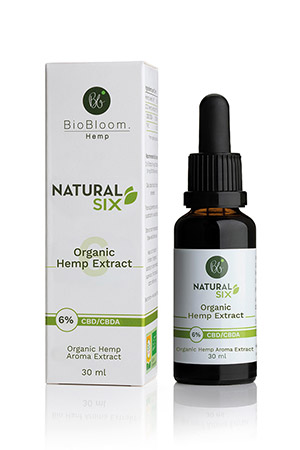 6 percent Organic CBD Hemp Drops Natural Six 30ml
92.20 €
3.07 € / ml
Packaging: 30 ml
Highest organic quality
High bioavailability
No artificial additives
100% Vegan
AC certified
Phone: +36 70 383 6135 It is available on Monday to Friday 08:00-16:00 (GMT +002).
The completely natural BioBloom CBD hemp extracts Natural in the natural concentrations 4%, 6%, 8% and 10% are 100% natural hemp extracts with the natural full spectrum of the hemp plant without any artificial additives or enrichment with CBD isolates.
The synergy between the valuable ingredients of the hemp plant such as CBD (cannabidiol), CBDA (cannabidiolic acid) and many other cannabinoids (e.g. CBG, CBDV and CBC) as well as terpenes and flavonoids allows them to develop their full potential.
The organic CBD extracts also contain phenols, valuable unsaturated fatty acids and minerals.
The careful harvesting and processing of the hemp flowers from the BioBloom fields by hand as well as the certified CO2 extraction guarantee rich organic full extracts, in which the diverse valuable ingredients of the hemp plant are preserved as best as possible.
The organic CBD hemp extracts Natural are free of PAHs, pesticides and heavy metals and are continuously subjected to stringent testing.
Our extracts were also awarded the AC Seal of Quality by the independent patient association ARGE CANNA and were among the test winners in an ARGE CANNA comparison test of 46 European CBD products.
Highest organic quality with the full spectrum of the hemp plant.
INGREDIENTS:
Hemp seed oil: ~ 50%
Hemp extract: ~ 50%
CBD/CBDA: 1800 mg
THC: < 0,2%
CBD, CBN, CBG: ~ 0,03 %
Further ingredients: terpenes, minerals, flavonoids.
CHARACTERISTICS:
The BioBloom CBD hemp extracts from the Natural series are 100% natural products from CO2 extraction without any aromatic substances. The organic full extracts contain absolutely no artificial additives and the original 100% natural product is not changed in any way.
The consistency is therefore thicker and the taste is very intense (very nutty and grassy, slightly spicy).
STORAGE AND PACKAGE LEAFLET:
Store at room temperature away from direct sunlight. DO NOT store in the refrigerator! Keep out of reach of children and minors. Shake well before use.