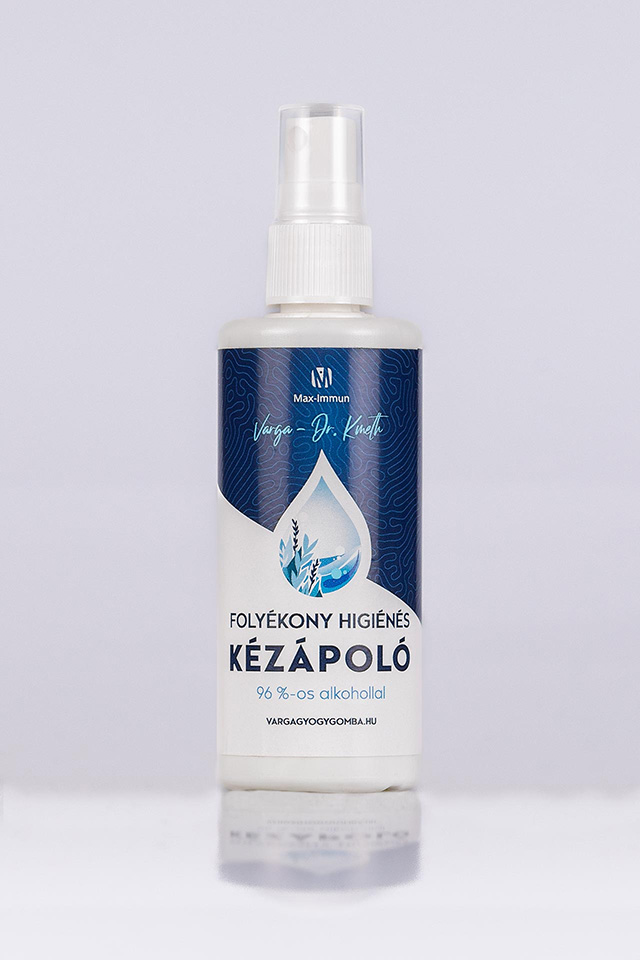 Hygienic hand lotion
5.94 €
(4.68 € + 27%)
0.06 € / ml
Packaging: 100 ml
Hand, skin, surface, mask cleaning and air purifying spray
Phone: +36 1 999 9849 It is available on Monday to Friday 08:00-16:00 (GMT +001).
Due to its all-natural sweet orange oil, santal oil, clove leaf oil and cubeba oil content, this spray will not dehydrate or damage your skin when you use it.
Sweet orange oil (Citrus aurantum dulcis oil) is an essential oil listed in the VIII Hungarian Pharmacopoeia, which is recommended primarily for the rebalancing of excessively dry or oily skin.
Santal oil (Santalum album oil) is recommended for soothing and cleansing the skin and has antiviral, antibacterial and antifungal properties.
Clove leaf oil (Eugenia caryophyllus leaf oil) is a powerful antibacterial oil recommended for skin inflammations, fungal and viral infections. It also has analgesic and scarring properties.
Cubeba oil (Litsea cubeba fruit oil) is also known as the "oil of tranquillity", but it can also be used for its powerful antiseptic, antifungal and antiviral properties.
This lotion is a general hand cleaner containing anti-viral, anti-bacterial and anti-fungal agents and contains ethanol at 96% concentration, plus isopropyl alcohol.
It contains a blend of pure essential plant oils of all-natural origin and does not dry or damage the skin.
Note: Apply only to dry skin. Only use it with caution or do not use the spray if you are sensitive to citrus fruits.
Application: spray the product evenly onto the hands, then gently rub it into the skin and allow to dry.
Ingredients: ALCOHOL, ISOPROPYL ALCOHOL, CITRUS AURANTIUM DULCIS OIL, SANTALUM ALBUM OIL, EUGENIA CARYOPHYLLUS LEAF OIL, LITSEA CUBEBA FRUIT OIL