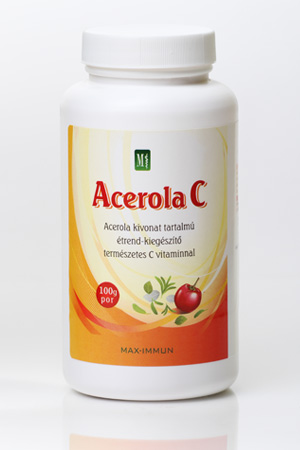 Acerola C powder
20.23 €
(15.93 € + 27%)
0.20 € / g
Packaging: 100 g / box
It's a fruit powder extract with natural vitamin C and minerals in the form of powder.
Phone: +36 1 999 9849, +36 70 383 6135, E-mail: [email protected] It is available on Monday to Friday 08:00-16:00 (GMT +001).
Product description:
 
Is a fruit powder extract with natural vitamin C and minerals in powder form. The Acerola is a low-growing bush or tree which is endemic in the Brazilian rainforests. The fruit is similar to the European cherry. Our product is the compressed substance powdered by a special procedure of the ripped Acerola, the vitamin content is 17%. Apart from vitamin C more than one hundred and fifty substances were identified in the Acerola for example iron, vitamin A, thiamine, riboflavin and magnesium.
Acerola C is the unique mixture of vitamins and minerals.
Components:
| | | |
| --- | --- | --- |
| Name | Active component | Total extract / Active substance |
| Acerola fruit extract | Vitamin C | 295 mg/50 mg |
The product does not contain preservatives!
Our products are suitable for vegetarian as well.
Dosage:
General dosage: 1-2 x 1 teaspoon daily
Maximum till 3 x 1 depending on the necessity.
You can call our information lines about personal dosage recommendations as the dosage can be influenced by the age and health state.
The product does not replace any therapies and please consult your doctor about its consumption.