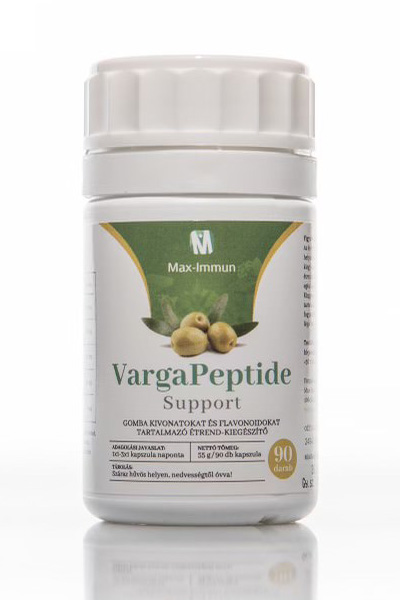 VargaPeptide Support
37.66 €
(29.65 € + 27%)
0.42 € / capsule
Packaging: 90 capsules / box
Special dietary supplement containing caterpillar fungus (Cordiceps sinensis) polisaccharide, oleuropein and high in apigenin (90 pieces / box)
Phone: +36 1 999 9849 It is available on Monday to Friday 08:00-16:00 (GMT +002).

Its main active ingredient is oleuropein extracted from olive leaves. The special feature of the product is that it has the highest apigenin content among Vargagyógygomba products, and it has anthocyanins and flavonoids as well.

Ingredients:
- Olive leaf extract
- Caterpillar fungus extract
- Blueberry extract
- Chamomille flower extract
- Mulberry leaf extract
- Gelatine capsule
Active substances

1 Caps.

2 Caps.

3 Caps.

oleuropein

104 mg

208 mg

312 mg

apigenin

54 mg

108 mg

162 mg

Caterpillar fungus
polysaccharides

40 mg

80 mg

120 mg

anthocianin

10 mg

20 mg

30 mg

Flavonoid extract from
mulberry tree leaf

2 mg

4 mg

6 mg
Dosage:

Gradation is recommended when you start using Vargepeptide Support.
Week 1 – 1x1 capsule daily
Week 2 – 2x1 capsules daily
Week 3 – 3x1 capsules daily
The daily dose applied on Week 3 is recommended from Week 4. If you have any further questions about dosing, feel free to call our information line. Age and state of health can affect dosage. The product is not a substitute for any cure or a balanced diet.